For many of you, Google Drive is an everyday tool for work. In DottedSign, our export feature allows you to directly connect with Google Drive to export your completed contracts or any signed documents - in batch and/or individually.
This helps to reduce your routine effort in downloading and uploading documents to Google Drive, making the backup process much more efficient. You can automate the backup process in just a few steps.
*Note: Google Drive Export is a premium feature, available for Business plan and above. Get your free trial here.
Connect with Google Drive
Go to "Admin Console".

Click "Export". Then you can see the Google Drive logo. Click "Connect".

Select the Google account you want to connect with DottedSign.

Click "Continue" to enable the access.
Once completed, you will see a success page. Now you can go back to the Admin Console and proceed to the export settings.
Go to "Export Setting".
Choose the default folder "DottedSign_AutoExport" or click "+ Create New" to create a new folder. When done, click "Confirm".
Export All Signed Documents Automatically
Once connected with Google Drive, you can choose to export all signed copies to the designated folder in one go.
Click "Export all". The export process will run in the background. Within no time, voila! All the completed document copies are in your Google Drive folder.

To automate your next and future completed document copies export to Google Drive, click "Enable to export automatically".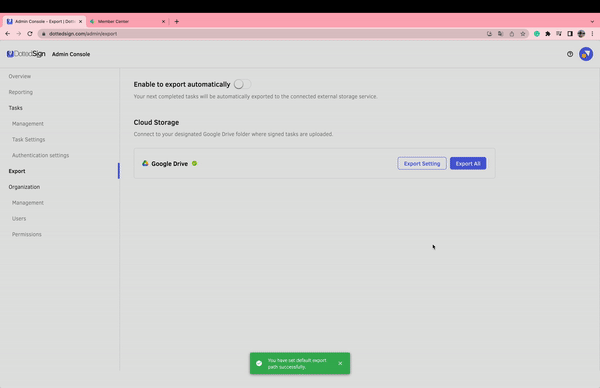 Export Signed Documents Manually
If you want to manually export single documents or any specific documents, you can also do that in DottedSign!
Go to "Management".

Click "Completed", then select the document that you want to export.

Click "Export". Now you can choose the designated folder or "Create New" to create a new folder to your documents.

Once you click "Confirm", the export process will begin.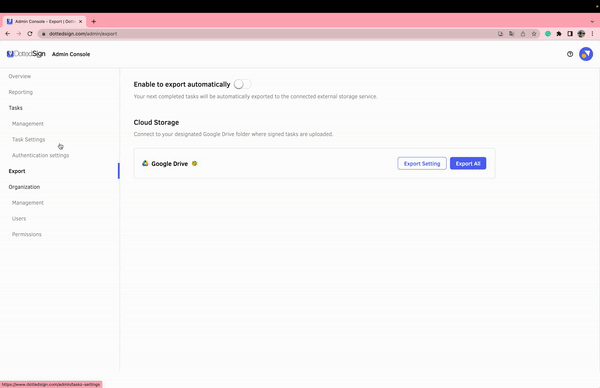 Disconnect Google Drive
In case you no longer need to export document copies to Google Drive, or you wish to connect with another Google account, you can disconnect by following the steps below.
Go to "Export" and click "Export Setting".

Click "Disconnect" to disconnect the connection to Google Drive.
*Please note that the next and future completed document copies will no longer be automatically exported to the designated folder. However, rest assured that the copies you've already exported will remain in the previously connected Google Drive folder.