What is an electronic signature? And how secure is this process?
Simply put, an electronic signature is a legally binding and enforceable acknowledgment that a signer adds to a document - just like when you add your traditional signature to a physical contract.
Electronic signatures work just like traditional pen and paper signatures as long as they meet the following three criteria:
You must be able to prove the identity of the signer
You must be able to prove the intent of the signer
You must be able to verify the process by which the signature was applied
DottedSign meets these requirements thanks to key features we've implemented in the service:
DottedSign's e-signature process is secure thanks to the use of Digital Ledger Technology (DLT). DLT uses blockchain to enhance the document's security and integrity to prevent tampering. The documents are also encrypted with TLS/SSL, AES-256 and RSA-2048.
We also prevent tampering with documents through our incorporation of a digital certificate issued by Certificate Authority (CA). A digital identity certificate is a digital marker that shows the signing process took place under a safe and trusted environment. For this certificate to appear on a signed document, no changes can be made to the language after the various parties sign – thus ensuring that the terms included stay fixed. The certificate is also used to confirm the identity of the person or the name of an organization. Digital certificates must be issued by a trusted authority who also acts as the guarantor, the Certificate Authority (CA). DottedSign's digital certificate is issued by an authorized AATL (Adobe Approved Trust List) member. AATL is the world's largest trust service for electronic documents.
Where exactly is the digital certificate located? Simply open your completed document with Adobe and you will see a small green check mark in the top left corner that lets you know all signatures are valid!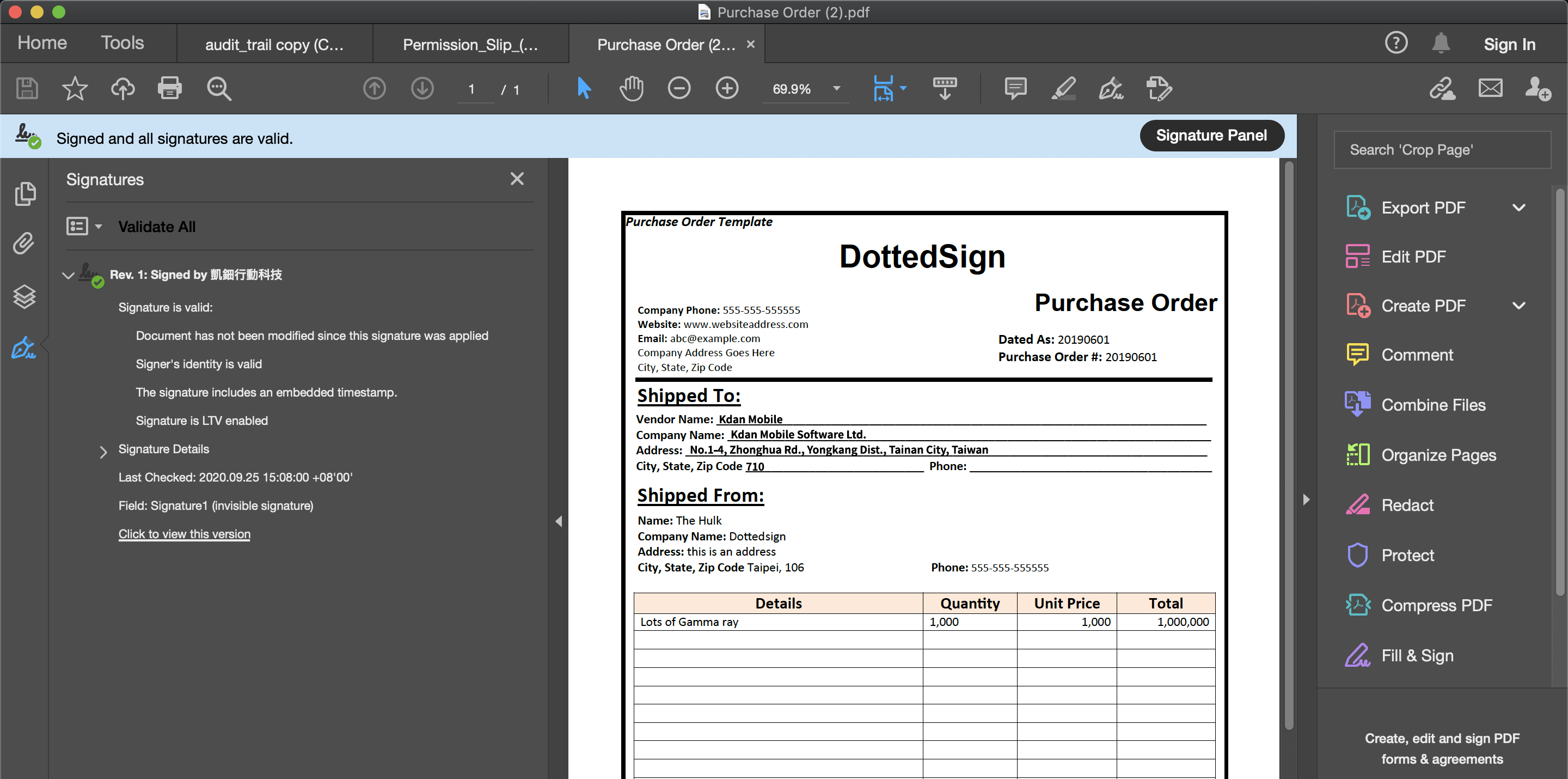 Not yet a DottedSign user? Set up your Free account and get started! Click here to sign up!
Further Reading: What are the benefits of adopting an electronic signature service?