Occasionally we release vouchers to our users, offering special deals to DottedSign without having to purchase it. To redeem the code on the voucher, simply login with your Kdan ID, which will be the email you've registered to DottedSign. You can easily create a Kdan ID if you are yet a DottedSign user.
Once you login successfully, the special deal will be applied to your current plan right away.
Here is a step-by-step guide to redeem a voucher:
Visit the voucher redemption page on the

Kdan Creative Store

.

Sign in, or create a new Kdan ID.

Paste or enter the voucher redemption code, and click 'Get My Offer'.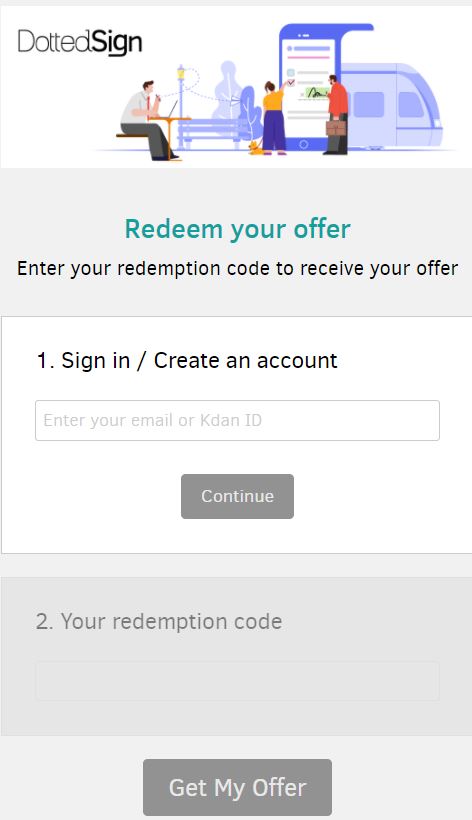 Redeem successfully! You will receive a confirmation email.

Access DottedSign either from the link in the confirmation email, or visit our

All-Platform

page to get started.
Having trouble? Try these tips and tricks:
Enter the voucher code exactly the way you receive it. Double check the code does not contain extra space, characters, punctuation or symbols while you paste it.

Vouchers are case sensitive. Please make sure the uppercase and lowercase are exactly the same as you receive it.

Ensure that the code is valid at the time you redeem it. Some codes have an expiry date listed with the voucher.

Kindly note that some vouchers are one-time-only, meaning they can only be applied once. Some codes are applicable only to specific accounts. Please confirm the eligibility and restrictions of the voucher codes before applying them.